Stress Management Partnership Launched with Drive
LeadingAge Oregon is excited to announce a partnership with Drive, an education and consulting firm that helps improve staff retention, employee engagement, and recruitment.
One of several programs available to LeadingAge Oregon members is The Stability Zone. This online program that is brimming easy-to-implement stress-busting advice in bite-sized videos. 
Your hard work can result in burn out, breaking down, walking out of the job, or worse! But what if you could learn simple strategies to optimize your health and sanity so you can continue doing the important work you do? And while you're at it, what if you could experience more joy from that work and from your free time?
Introducing: The Stability Zone
The Stability Zone is a go-at-your-own-pace, online program that is brimming with stress-busting advice. This course contains quick, easy-to-implement actions in bite-sized videos. In addition to learning tips on how to work stress-free, leaders can share the Stability Zone joy by teaching their teams how to banish their stress for good too!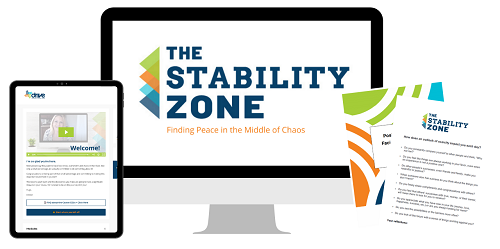 Engage with six exciting modules:
Module 1: Getting Started
The first steps of any journey are often the hardest. This module focuses on why and how you should take those steps away from a life of busyness, away from the SOC (stress, overwhelm, chaos) of it all, and toward a place that anchors you, allowing more joy, peace, and calm in.
Module 2: Burnout be Gone!
Avoiding burnout is a personal journey. In this module, you will learn how by tuning into your emotions and taking small steps, in a manner that works for you, to help you steer clear of burnout and exhaustion for good.
Module 3: Looking Back
We can't help it; we are shaped by our past experiences. In this module, you will learn how to address some of those old hurts, traumas, and failures, so they don't continue to impact your health and wellness in the here, now, and beyond.
Module 4: Looking Forward
The lens through which you see the world really matters. This module focuses on how embracing life's ups and downs with an attitude of gratitude, fascination, and humor can whittle away at the stress, overwhelm, and anxiety you feel.
Module 5: Your Environment of Possibility
Your personal spaces are constantly and unconsciously influencing you. This module focuses on how filling those places in which you dwell with joy, interest, order, and calm can maximize the peace you feel every day.
Module 6: Sharing the Spark with Others
This lifestyle is addictive and contagious. After getting there yourself, you will want to teach your team members how to get to The Stability Zone too! This module shows you how to do that, with a focus on simplicity and sustainability as the keys to success.
Learn More https://www.cultureoutcomeshub.com/a/2147485159/LwhmVGLN
Share this post: